$15 for 15 years
Celebrate 15 years of educating students in a Christian environment by donating to Vista Ridge Academy
For the past 15 years, Vista Ridge Academy has provided Christian education to students throughout the north Denver metro area to carry out our mission to provide holistic Christ-centered elementary education, encouraging children to think creatively and critically, problem-solve and explore, collaborate with others, and develop strong character in accordance with our core values. This year, we're asking for your support to help us continue this important ministry.
A $15 donation to celebrate our 15-year anniversary can go a long way in supporting and educating our students.
Since the beginning, Vista Ridge Academy has been supported by our constituent churches, donors and volunteers. We have worked to create a supportive and welcoming community for our students by providing opportunities to grow, learn and lead. In order to maintain Christian programming at an affordable tuition cost we need your help. We are grateful for all the families that have been, and continue to be, part of our school family. Please show your support with a donation today.
After a century of educating over thousands of children within Boulder County, the school's Board of Directors was challenged with the rapid growth of young families living in the north Denver Metro area. Motivated by a desire to better serve future generations, the Board adopted a bold new plan to create Vista Ridge Academy.
Vista Ridge Academy is conveniently located in a modern development northwest of the I-25 and I-470 interchange near Sheridan Parkway and Highway 7. The school name was changed to Vista Ridge Academy and was moved to the new location in February of 2004.
Since the first school year nearly 15 years ago, Vista Ridge Academy has taught more than 600 students in the North Denver Metro area.
This year, as we celebrate our 15th year providing Christ-centered education to students in the north Denver area, we invite you to show your continued support with a gift of $15. Our 15 for 15 Campaign goal is $150,000. Here are 15 ways you can give to Vista Ridge Academy.
Safety & Security
Safety and security at school allows children to look forward to being in an encouraging environment, promoting social and creative learning. Safety in schools is necessary to support the academic success of each child.
Fencing   //   $18,000
With the increased development in our area, it has been strongly recommended by our Security Resource Officers to close off our outdoor activity field and playground area with fencing.
Transportation   //   $20,000
Teachers and Coaches need reliable transportation to take students on EdVentures and to schools for Game Days. EdVentures are important because students can engage with content in a variety of ways and make concepts more memorable. Participation in organized sports offers the chance for students to enhance their physical and social skills. $20,000 will help us purchase one shuttle bus for 16 passengers.
Exterior Lighting   //   $2,000
We want to make sure our guests, students and staff are safe and secure when entering or exiting our building when it is dark outside.
Staff Safety Training   //   $500
From Cyber Bullying to Gun Violence, students are facing many challenges in their academic years. We want our staff to be trained to be proactive in the lives of their students.
Technology
It is important to acknowledge that students are already interested and engaged in using technology, this creates many amazing opportunities for schools and teachers to benefit from integrating some forms of technology in the classroom and to make teaching and learning more effective.
Tech Lab Furniture   //   $15,000
It is the goal to turn the Tech Lab into a functional space that will allow for furniture to be moved when needed to allow for a variety of learning activities, i.e. lectures, group projects, etc. The current furniture is not conducive to moving on a regular basis and is outdated. The chairs are worn and coming a part. The $15,000 would help us purchase new tables and chairs for the lab.
Classroom Technology   //   $2,500
Our teachers continue to implement new technology into their classroom for STEM projects and learning activities.
Stage Lighting and Sound Equipment   //   $1,500
While Fine Arts allow children to develop creative passions, they simultaneously teach children language and communication skills, helping them to communicate effectively with others with confidence. Fine Arts are all about self-expression, exploring alternative options and embracing individuality. The Fine Arts department would like to purchase more lighting and sound equipment for our school performances.
Academics
Academic achievement is important for the successful development of young people in society. Students who do well in school are better able to make the transition into adulthood and to achieve occupational and economic success.
Professional Development   //   $10,000
A great teacher makes learning fun, as stimulating, engaging lessons are pivotal to a student's academic success. Vista Ridge Academy would like to send teachers to annual conferences and workshops to help teachers continue to be great teachers.
Strings of the Rockies Program   //   $10,000
Experts agree that musical training improves: reading skills, language processing, speech, and a variety of brain functions. Learning to play violin can build self-reliance, self-esteem, and self-awareness – qualities which make students well-liked and well-adjusted. Help us to continue to offer violin classes to our students. $10,000 will help us fund a portion of our violin rental fees and Instructor salary for one school year.
Student Scholarships   //   $50,000
We believe in the many benefits of private education. Our students are nurtured in well-rounded and loving classrooms, their small class education ensures they get the attention they need, and they develop lifelong friendships with like-minded young boys and girls. But on the surface, the cost of private school can complicate the school's ability to bring the best students into the classroom. This is why we so strongly believe in providing aid for students who can flourish in our community but whose families could not otherwise afford it. Each eligible student can receive scholarship for up to 50% of tuition. $50,000 will help us give scholarships to 20 students.
Partnering for Eternity Scholarships   //   $3,500
Since 2006, the Assist and Partnering for Eternity (PFE) Programs have facilitated relationships between students at Seventh-day Adventist academies and elementary schools and mentoring adults in their communities. Vista Ridge Academy currently coordinates mentorship relationships for 14 students. Our school funds 35% of the scholarship for each student.
Facilities
With respect to teachers, school facilities affect teacher recruitment, retention, commitment, and effort. With respect to students, school facilities affect health, behavior, engagement, learning, and growth in achievement. Thus, facility quality is an important predictor of teacher retention and student learning.
Curb Appeal  //   $5,000
Curb appeal is vital in creating a positive first impression. A well-maintained landscape will draw students and parents in and add a level of pride and beauty, which will contribute to their decision. Help us update our front side of the building and put a plan in place to maintain it.
Re-Coat Gym Floor   //   $6,500
A re-coat is crucial for a floor's upkeep and appearance. It is recommended that a floor be re-coated every year. A re-coat gives the floor a fresh new look, but it also helps repair any damages to the finish.
Track and Field   //   $4,000
The track and field are used daily during recesses and PE classes, seasonally for sports games and tournaments and for annual school-wide events. Half of the field is not being watered to save on the water bill. The track is full of weeds and a challenge to maintain.
School Signage   //   $1,500
Front of School signs are one of the most important signs your school can have. They make a statement about school pride and presentation values. Our school would like to add the letters, "Vista Ridge Academy" to the front top of our exterior gym wall.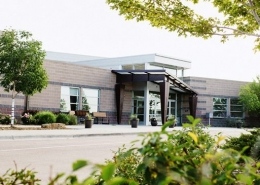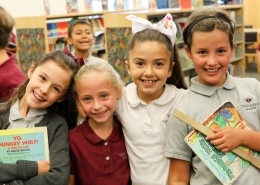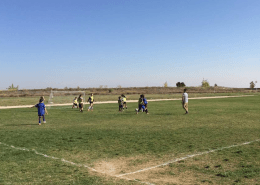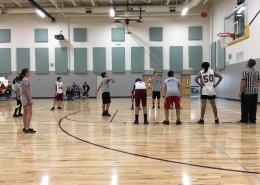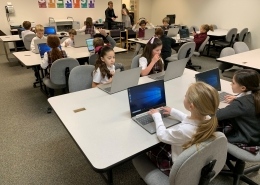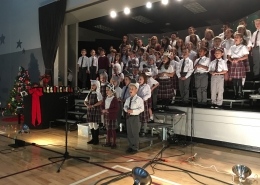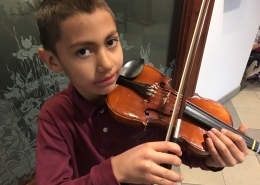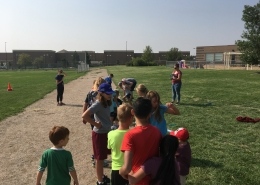 Come visit us and learn more about our Preschool through 8th Grade program. Call 303-828-4944 to schedule a tour.