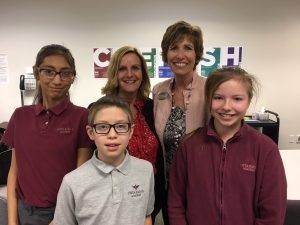 As you enter Vista Ridge Academy for an Open House you may be greeted by a Student Ambassador – "Welcome to Vista Ridge Academy, we are glad you are here."
Students in grades 5 through 8 at Vista Ridge Academy apply to the Student Ambassador program, and if accepted, are responsible for guiding and touring visitors around campus. The Ambassadors are quick to respond to questions, they look you in the eye, shake hands, and speak loudly and clearly. They are well informed about the school, what they are learning and where they are  headed. While Vice Principal, Marsha Bartulec, is available for questions to the students, she does not prep students about what to say. She wants the students to lead the tours.
The Student Ambassador program at Vista Ridge Academy reflects Project Based Learning because several student goals and essential project design elements are incorporated. Students have a voice and a choice, they have an authentic task, receive critique and feedback and reflect after the experience. "We have over 50 tours each year. Ambassadors support an authentic need. They are not just our students, they are our partners," says Bartulec.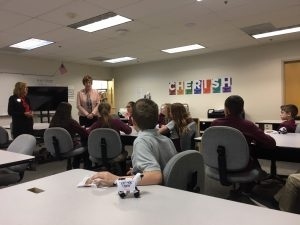 Community Leaders are invited to speak with the Ambassadors once a month and cover topics including effective communication, serving the community, customer service and leadership. The 2018-2019 school year Guest Speakers included School Resource Officer Thoen, Boulder Church Senior Pastor Japhet De Oliveira, Chick-fil-A Owner Barrie Goettsche and Marketing Director June Werner, and Avista CEO Jillyan McKinney. Student Ambassadors also participate in service projects throughout the school year.
Come visit us and learn more about our Preschool through 8th Grade program. Call 303-828-4944 to schedule a tour.