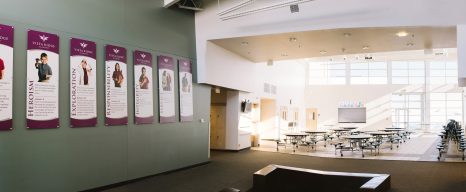 One way Vista Ridge Academy promotes healthy bodies is through our Hot Lunch Program. We serve healthy vegetarian meals Monday through Thursday.
Cost:
Preschool to 8th Grade: $5.00
Parents and Guests, $5.00
Sample Menu:
Monday           Pizza, Salad, Drink (8th Grade Fundraiser)
Tuesday           Hot Dogs, Tater Tots, Cole Slaw, Fresh Fruit, Milk
Wednesday     Baked Potato with Toppings, Lentil Curry, Fresh Fruit, Milk
Thursday         Haystacks, Fresh Fruit, Milk
Come visit us and learn more about our Preschool through 8th Grade program. Call 303-828-4944 to schedule a tour.