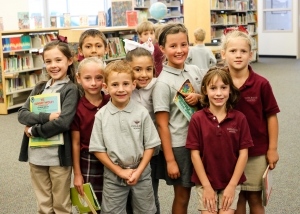 Since 2014, Vista Ridge Academy has required a uniform for students. The school board, administration and teachers agree with much of the research in regard to the positive learning environment that is created when students wear uniforms. We also hold to the idea that uniforms remove many of the distractions caused by name brands, different styles, and other apparel related issues, allowing students to focus on their academics.
It is school policy that students wear clothing in line with the grade specific uniform guidelines. This is not a dress code but rather a uniform. The uniform guidelines are in effect every day of the school year. There will be some days designated as "Dress Down Day" or "Spirit Days." Those days will be announced in advance via the school newsletter. Guidelines for those days will be announced at the appropriate time.
School Uniforms are purchased from Land's End. Purchase yours today!
Come visit us and learn more about our Preschool through 8th Grade program. Call 303-828-4944 to schedule a tour.