Vista Ridge Academy Welcomes New Staff Members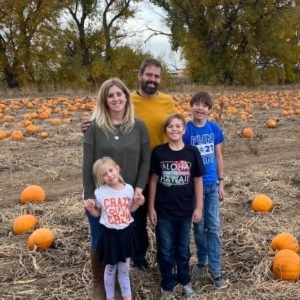 Lisa Barton, Business Manager
I love to read, and by read, I mean re-read my favorite books over and over and throw in a couple new ones upon occasion! I like happy endings and I don't like scary books. I grew up in a lot of different places in the western United States, including Colorado. I graduated from Campion Academy in Loveland where I met my Husband of almost 18 years. I love to go on moderate to easy hikes and being outside in nature or even just outside mowing my fields.
I have been volunteering at Vista Ridge Academy since 2016, and was the Home & School or PCA leader for a couple years as well. I helped raise funds for several things here at the school including our Playground. I have felt this is where God wanted me and my children to be since William, my oldest son, started in Mrs. Carr's first grade eight years ago and we were blessed by her and the school. I have been so blessed to be a mostly stay-at-home mommy while working for family on their taxes, books and billing when needed. I have also filled in at the school as a substitute teacher, substitute enrollment assistant, substitute front office, substitute whatever is needed! Being on the school board for a few years really helped me see what a great direction our school was growing in and make me excited to help it continue to get better every day.
Vista Ridge Academy is safe place for my children and for me! I am so blessed by the people I work with! It is a huge blessing to get to see the students growing in Christ and some of them just growing up right before my eyes! Having teachers who truly care about their students and their struggles and actually have time to spend in prayer over them is a powerful testament to why we have Adventist Education. Vista Ridge Academy is inviting Jesus in with us each day, and giving each child a chance to know Him personally, I'm so lucky to be able to be a part of this school.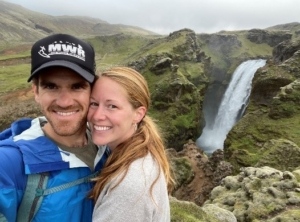 Ryan Haas, Enrollment and Retention Coordinator
Hi everyone! My name is Ryan Haas. I am the new Enrollment and Retention Coordinator at Vista Ridge Academy. I grew up in Dayton, Ohio, graduated from Spring Valley Academy, Southern Adventist University, and completed my Masters in Management and Leadership last year from Western Governors University. I have been married to my lovely wife, Courtney for seven years. In that time, we have lived in Southern California and Ohio. We recently packed up our belongings and our rescue pup Denali and moved to Colorado at the end of last year. I love being outdoors. Hiking, running, surfing, and scuba diving are some of my favorite interests.
My route to working at Vista Ridge Academy is not very traditional. While I was attending Southern Adventist University I met my now best buddy Daniel Hodgson. In 2011 we both served as missionaries on the island of Vava'u in the Kingdom of Tonga. Daniel was the best man at my wedding and I was just recently a groomsman at his wedding in Iceland! After graduating from Southern, I worked at Loma Linda University Health as an Alumni and Donor Relations Assistant. After about two years there, my wife and I moved to Dayton, Ohio where she worked as a Missions Coordinator for the Kettering Health Network and I worked as an Admissions Counselor for Kettering College and eventually was promoted to Associate Director of Student Life and Leadership. During my time at Kettering College, I traveled locally, nationally, and even internationally to spread the word about our Adventist healthcare college and recruit students to attend. In that time, I also completed my Masters in Management and Leadership. Last October Courtney accepted a position at Centura Health as the Development Officer for Global Health Initiatives. Unfortunately, that meant I had to leave my position at Kettering College. I moved to Colorado a month later after selling our house and packing up our belongings. Since our move, I have been searching for a position in education here in Colorado. During the rise in cases due to the Omicron variant, I was asked by Sandy Hodgson, Principal at Vista Ridge Academy and mother of the previously mentioned Daniel, if I may be interested in substitute teaching if one of her staff were to get sick. I agreed, thinking I may be called in a month or so. I got a text from Sandy the next day and ended up subbing for the week. I guess I didn't make a horrible impression because a month or so later the opportunity to be enrollment and retention coordinator presented itself and here I am. I couldn't be more excited to work at Vista Ridge!
When I first set foot on the Vista Ridge Academy campus it felt like a special place. Everyone was so warm and welcoming. I want every current and potential student and family to feel that way when they come to Vista Ridge. In my previous job, I visited countless academies. There is something different about the students and teachers at Vista Ridge. I can tell that Jesus is in the classrooms, working through the teachers and students. I am so happy to join the Vista Ridge team!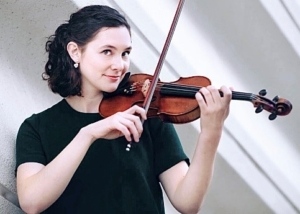 Madeleine Hogue, Strings/Violin Instructor
I grew up in Fayetteville, Arkansas. In my free time I love swimming, playing music with friends, baking, and reading.
I am a Suzuki-trained teacher and have been working with students in private and group violin classes for the past ten years. In addition to my Suzuki training, I hold Undergraduate and Master's degrees in violin performance. Throughout my graduate studies I served as the first violinist of the Goldberg Honors String Quartet, as concertmaster of the CSU-Northridge Symphony, as a member of the American Youth Symphony, and as a private instructor for collegiate-level violinists studying in the fields of music education, business, and therapy. Upon completion of my Master's degree I devoted myself fully to music education and performance, working as a teacher with a private studio of 25 students and as a freelance violinist in the recording and gig industry of Los Angeles. After transitioning to virtual teaching and relocating to Colorado in 2020, I eventually made my way to VRA, where I am thrilled to be working with students in-person again!
As a Suzuki teacher, one of my greatest priorities is to foster compassion and communication skills through music education. As soon as I read VRA's core values and met with the wonderful faculty and staff, I knew that the school was dedicated to these ideals as well. In my short time at VRA, I have already witnessed such a special educational environment. Here, students and teachers are given the resources and consideration needed to create a positive learning experience that builds strong character and integrity in each individual. At VRA, children are learning not only how to be good students, but how to be good members of their community.
https://vistaridge.org/wp-content/uploads/2019/11/vralogo-horiz-340x80.png
0
0
Marsha
https://vistaridge.org/wp-content/uploads/2019/11/vralogo-horiz-340x80.png
Marsha
2022-03-12 20:34:36
2022-03-12 20:34:36
Vista Ridge Academy Welcomes New Staff Members