Updates will be provided here as they become available. If you have questions email, hello@vistaridge.org, and we will reply within 24 hours.
July 21, 2021 // 5:42 p.m.
Hello Parents,
It was nice to see so many of you at our Family Fun Night this past Monday. Thanks for coming out and special thanks to our Parent Community Association (PCA) for organizing a fun event.
A working group consisting of teachers, board members, and medical and environmental experts met to review current CDC and CDPHE guidelines and have created our Back to School plan. We recognize that guidelines may change and we will make sure we continue to do everything we can to keep our students, families, and faculty safe and healthy.
Teachers have submitted school supply lists and our dress code has been reviewed and updated. All of these documents are attached to this email. They will also be available on our website soon.
We are looking forward to an August 18 start date. We will continue to update you on any calendar items that may change. Our most current calendar is also attached.
Enjoy the last few weeks of summer and let us know if you have any questions as we prepare for an exciting launch to 2021-2022.
Warm regards,
Sandy Hodgson
Teaching Principal (5th & 6th Grade)
January 3, 2021 // 10:41 a.m.
Happy New Year to our Vista Ridge Academy Families!
We look forward to seeing our students back on campus tomorrow morning.
The plan that we implemented for our return to campus in August will remain the same as we begin second semester.  Students will remain in cohorts and continue to follow guidelines to "Protect the Nest". Teachers and staff are dedicated to doing their part to maintain high standards of health and safety.
Today's e-newsletter posted reminders as you prepare for tomorrow. Here they are again:
Before returning to campus tomorrow, ask yourself if you have
Limited or eliminated your social interactions outside of your family.
Avoided play dates and sleepovers with others.
Worn masks and maintained physical distance when outside your home.
Please keep your child home if
they or other family members display cold, flu, or COVID-19 symptoms or have been exposed to the virus.
they have come in contact with someone who is awaiting test results.
Return to Campus Reminders
Pack a healthy lunch. Decrease or eliminate sugary foods. Limit the need to use a microwave to avoid classroom lines. It also limits lunch recess time.
Bring a water bottle! Drinking fountains are still closed.
Pants: Uniform pants in khaki or grey (no sweatpants or cargo pants). Leggings worn under dresses or skirts must be black.
Shirts: Polo shirts or button down Oxford shirt with the Vista Ridge logo. The maroon Vista Ridge Academy t-shirt or maroon Fun Run t-shirt may only be worn on Mondays.
Jewelry is limited to conservative single-lobed stud earrings and medical bracelets.
Socks should be black, white, or grey with no contrasting trim. Tights should be black, white, grey, or burgundy.
Shoes should be black, burgundy, grey, or white with white, brown, tan or grey trim. They may not have other contrasting trim. Shoes with heels should be no higher than 2" (no open toes, sling back or spike). Boots should be black.
Proper PE shoes should be worn on Tuesdays and Thursdays for PE.
Bring warm jackets, hats, and gloves, for outdoor recesses. We will always try to get outside every day for fresh air.
Your mask should be clean every day. Make sure you have a spare one in your backpack should yours break or get soiled.
Enjoy your last day of vacation. We can't wait to see you tomorrow!
With warm regards,
Sandy Hodgson
Principal / Teacher
November 20, 2020 // 9:53 a.m.
Hello Vista Ridge Academy Families,
You did it! Today marks 65 days of protecting the nest and having in-person learning. Thank you!
According to the Colorado government, level red suggestions are for P-5 schools to continue in-person learning and middle schools are suggested to have either in-person, hybrid, or remote learning.
As we watch counties move to level red, it is more critical than ever to continue protecting the nest and taking steps to insure that our in-person learning can continue. Here are steps to take to maximize our in-person learning status:
Limit or eliminate your social interactions outside of your family, especially over the holidays.
Avoid playdates and sleepovers with others.
Wear masks and physical distance on and off campus.
Keep your student home for observation if they or other family members display symptoms of COVID-19 or have been exposed to the virus.
Keep your student home if they have come in contact with someone who is awaiting test results.
Contact the school, even over the holidays, of any COVID-like symptoms, positive case confirmation and/or exposures. (email shodgson@vistaridge.org or mbartulec@vistaridge.org)
Our next goal is completing 80 days of in-person learning at the end of second quarter. We appreciate all you are doing to protect the nest!
We pray for good health and safety for all our families. Happy Thanksgiving!
With regards,
Sandy Hodgson
Principal/Teacher
November 9, 2020 // 10:22 p.m.
Hello Vista Ridge Academy Families,
As many counties move to Level Orange/Safer at Home, Governor Jared Polis extended the mask mandate today and urged Coloradans to limit interactions with those outside their household over the next few weeks.
Schools are defined as "critical business" and can determine how to structure the format of education based on local factors. Vista Ridge Academy will continue to provide in-person learning and follow our "Protect the Nest" policies by keeping our students in cohorts, washing hands, sanitizing, and wearing our masks. The school is also cleaned and disinfected daily.
Families can continue to support the school by:
Encouraging your student to wear their mask properly.
Keeping your student home for observation if they or other family members display symptoms of COVID-19 or have been exposed to the virus.
Limit your social interactions, especially over the holidays.
Thank you for all you do to keep everyone safe and healthy.
With regards,
Sandy Hodgson
Principal/Teacher
July 15, 2020 // 3:01 p.m.
Hello Vista Ridge Academy Families,
The start of school is four weeks away! Administration, staff, school board members, and our working group has been creating plans to minimize risks as we plan to return to campus. Please note the following:
Daily Routine
Check out our Daily Outline for day-to-day operations at school. This information will be updated as any new guidelines are released. This outline is in addition to our 2020-2021 School Plan.
Dress Code
We have made a few modifications due to COVID-19 to our dress code. The modifications, dress code, and uniform supplier information is found here. We plan to have a physically-distanced sidewalk sale of used uniforms soon and will communicate that information when it is available. Currently Lands' End is offering 20% off on uniforms so you have time to shop the sidewalk sale before making any new purchases from Lands' End.
Extended Care After School (Ages 5+)
Currently our extended care program is suspended while we await guidelines from our licensing specialists; however, we are interested in knowing what families would utilize the service should it become available. Please let me know if you would like to be added to a list for more information.
Creating a Back Up Plan
Vista Ridge Academy is excited about our return to campus, but we also realize that we must be ready to shift immediately to remote learning if necessary. Circumstances may also arise that cause a child or family to temporarily stay home due to illness. As with any extended absence due to illness or other reasons, we will assist and support students with making up classwork missed while absent. When a parent must work outside the home, we encourage you to have a plan for supervising and caring for your child if they need to stay home.
School Supply Lists
School supply lists are available for each class. Teachers are also purchasing individual supplies and containers that your child will use on campus and can be taken home in the event remote learning becomes necessary.
August Orientation and Staggered Starts by Families
More information will be emailed regarding our Zoom Back to School Orientations on August 10 and 11 and our Staggered Start Days for August 13 and 14. Families will be assigned either August 13 or August 14 as a first day of school. On these two days, teachers will be working with smaller groups to make assessments and to teach routines (moving through the building, classroom etiquette, lunch procedures, etc) as we return to campus.
We look forward to welcoming you to campus and are happy to assist with any questions.
With regards,
Sandy Hodgson
Principal/Teacher

June 29, 2020 // 10:04 a.m.
Dear Vista Ridge Academy Families,
Thank you so much for your input and feedback over the past few weeks as we have worked toward our school plan for 2020-2021. You will find our current plan attached.

Starting this week, you will receive your 2020-2021 Financial Contract from Taryn Lewis, Vista Ridge Academy Business Manager. Please contact Taryn at finance@vistaridge.org if you have any questions about your contract.
Returning Families:  Beginning July 20, and once your financial contract has been submitted, you will receive instructions to complete the 2020-2021 Online Re-Enrollment Packet from Vice Principal Marsha Bartulec.
New Families: If you are still in process of completing the enrollment packet, Marsha Bartulec will continue to assist and answer your questions.
Over the next couple weeks we will be emailing and posting on our website our school supply lists and making any updates as we get ready for a new school year.
We are honored that you have chosen to partner with Vista Ridge Academy. May God continue to provide health and safety to your family.
Sandy Hodgson
Principal/Teacher
2019-2020 VRA@home Communications
May 15, 2020 // 10:14 a.m.
Hello Vista Ridge Academy Families,
We are almost to the finish line! Thank you so much for your support during our time of Remote Learning. Here is important information as we finish this year:
Drop off of School Supplies and Retrieval of Personal Supplies
Teachers will clean out student lockers/desks/cubbies and prepare supplies for pick up. Please note that
Kindergarten and 8th Grade personal supplies (and those of siblings) will be available for pick-up during our "drive through" graduation services. Please bring any school supplies with you that evening.
All other families need to sign up for a time slot to pick up your supplies and drop off any borrowed electronic devices and textbooks. Email Sandy Hodgson for the link to sign up for an appointment.
Follow the guidelines in our Strategies for Pick-Up and Drop-Off that align with the Colorado Department of Education. Email Sandy Hodgson for the guidelines.
Use the Wellness Screening before coming to ensure health standards are met. https://vistaridge.org/wp-content/uploads/2020/05/VRA-Wellness-Screening.pdf
Remember: Face coverings must be worn by anyone 12 and older entering the building.
Medication retrieval: Ms. Wanda will be in touch with families that need to pick up medication regarding procedures.
If there are special circumstances, you may request home delivery of your personal supplies.
Parent/Teacher Conferences
Your teachers are available to schedule a phone or Zoom conference to discuss your child's academic performance or any questions or concerns. If interested, please email your child's teacher directly to schedule an appointment before May 29. We will also be emailing our families a list of suggested educational opportunities to keep learning through the summer. Look for that no later than the first week in June.
Your Opinion Matters!
Please take time to answer a short survey and provide feedback as we finish this year and make plans for our 2020-2021 school year. Email Marsha Bartulec for the survey link.
As we conclude this year, we pray for health and safety of all our families and wish everyone a happy summer.
Sandy Hodgson
Principal/Teacher
April 22, 2020 // 7:39 a.m.
Good Morning Vista Ridge Academy Families,
Governor Polis announced on Monday, April 20, 2020 that Colorado is transitioning from "Stay at Home" to "Safer at Home" orders, including the continuation of school closures. Our Vista Ridge Academy school board voted last night to continue Remote Learning through the end of the school year. Our last day of Remote Learning will be Tuesday, May 19 with Friday, May 22 being the last day for students to submit homework. We are dedicated to celebrating our Kindergartens and 8th Graders with graduation activities on May 20 and 21. As we get closer to those dates and have more information on current social distancing requirements, we will communicate plans with our families. Toward the end of the school year, we will also update our families on the process for returning textbooks and technology and retrieving personal belongings from campus.
We are planning a strong finish to our school year with our Remote Learning and have some fun ways to celebrate together albeit from a distance.
Be safe and look after each other!
Sandy Hodgson
Principal/Teacher
April 1, 2020 // 9:21 p.m.
Hello Vista Ridge Academy Families,
Governor Jared Polis has amended his original executive order to suspend all in-person learning at public and private K-12 schools in Colorado until April 30. Vista Ridge will continue to follow our Remote Learning Plan. Our staff are committed to providing the best education possible during this time. We are three days into our program and welcome your feedback. Let us know if you have any questions or ways that we can help you in this new partnership.
As a reminder, our Teacher Connect Hours are Monday-Thursday from 9:00 – 11:30 a.m. and 1:00 p.m. – 3:00 p.m. and by appointment on Friday from 9:00 – 11:00 a.m. There are no "online" classes on Fridays. Please contact your child's teacher with any questions or concerns.
Let's add some fun to our learning next week with a Spirit Week! Here's our schedule:
Monday, April 6 ~ Crazy Hair Day
Tuesday, April 7 ~ Hat Day
Wednesday, April 8 ~ Bring Your Pet or Stuffed Animal to School Day
Thursday, April 9 ~ Vista Ridge Clothing Day (Pull out a uniform shirt, Fun Run or PE shirt and show your school spirit.)
Remember to check out our VRA@home section on our website for updates, daily activities, and more. Let's stay connected!
Sandy Hodgson
Principal/Teacher
March 29, 2020 // 5:35 p.m.
Hello Vista Ridge Academy Families!
We are getting closer to our official launch of Remote Learning (#VRAathome). I know some teachers (me for sure!) are still making final preparations, so if you don't have all your information yet, don't worry–it's coming. Remember that official start time will be 9:00 a.m.
Here's a little video for fun to get us started: https://vimeo.com/401989956
Sandy Hodgson
Principal/Teacher
March 26, 2020 // 9:50 p.m.
Dear Vista Ridge Academy Families,
As we make final preparations to start our remote learning EdVenture on Monday, March 30, we, like you, are trying to find the balance of flexibility and structure as we navigate what each day will look like. Thank you so much for your patience as we implement our classes remotely and connect with each of you. We believe we have a strong plan in place, Remote Learning Plan, see attached. Thank you, parents, for the increased role you will play since we cannot be physically present in your child's daily school program. We are blessed to continue our partnership in helping your child be successful.
Remote Learning Timeline:
Friday, March 27 and Sunday, March 29, 2020
Final distribution of technology and supplies needed for remote learning.
Friday, March 27 from 2:00-4:00 p.m. and Sunday, March 29 from 2:00-4:00 p.m. parents that have provided a list of items needed may pick up the supplies at the school. We will have them available in the atrium. We will send a separate email to these parents. Because of the "shelter in place" order, we can also bring the supplies to your home if preferred.
Monday, March 30, 2020
Vista Ridge Academy will begin Remote Learning
While we are hopeful to be back on campus on Monday, April 20, we will follow mandates issued by the Governor's office as well as our governing body through the Rocky Mountain Conference Department of Education. Should we have to extend our remote learning past April 17, we are still expecting our last day of school to be May 21, 2020. We will communicate all updates as we receive them.
We understand that this is new for everyone, and we expect there may be questions and/or natural glitches. Please email your child's teacher if you have questions or experience technology issues. We are dedicated to continually improving the experience.
As we all settle into this new normal, we look forward to providing ways for your family to remain connected to our amazing Vista Ridge Academy community. Please look for a new VRA@home reference section on our school website on Monday morning, which we will update frequently with tips, resources, and activities to bring us together. This Monday, we encourage you to send us your "first day of remote learning pictures" to Marsha Bartulec at mbartulec@vistaridge.org, or post them on Facebook using the hashtag, #VRAathome.
As a faith community, we can be confident that, even though we do not know every detail of the story we find ourselves in, we believe that God is present and in control. We continue to pray for each of you. Be safe and take care of one another.
Regards,
Sandy Hodgson
Principal/Teacher
March 23, 2020 // 6:14 p.m.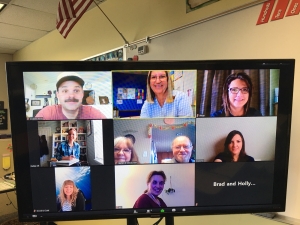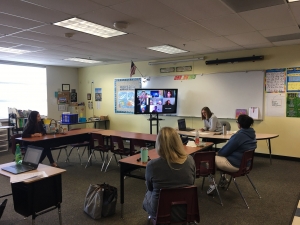 Good Evening Vista Ridge Academy Families,
You will see from the attached two images, that teachers were in meetings this morning, either on campus or from their homes.  Mrs. Koh actually zoomed in from Boston!  We are working on our distance learning and have a few ideas to share after today's meeting.
Teacher Check Ins–Over the next day or two one of our teachers will be calling to check in with you to see how you and your children are doing.
Technology and School Supplies–Do you need an electronic device at home for your child/children to connect online with their teachers? Let us know so that we can prepare one for pick up or to be dropped off at your home.  It may be that your student needs other supplies as well (textbooks, pencils, paper, markers, crayons, scissors, etc).  Please let us know what you need as we prepare to launch fourth quarter from a distance.
Calendar Items–At this time, we are cancelling all April calendar events.  We are keeping our fingers crossed that we will be able to have our Fun Run on campus the first Friday in May.  Watch for more information and an email to collect the t-shirt size for your student.
Strings–Mrs. Curtis would like to continue Strings class online and will be emailing families of what this class would look like.
Parent/Teacher Conferences–While the April conference evenings are cancelled, teachers will be available daily to help you and your child as we navigate our new learning process.
Spirit Week–We are planning a Spirit Week for April 6-10!  Stay tuned for the list of daily activities.  We'll be looking forward to getting and sharing your photos.
Social Distancing–Do you have something fun you're doing while keeping your distance?  Send me your photos and we'll share to our Facebook page as a way to stay connected.
Questions?  Please contact Marsha Bartulec (mbartulec@vistaridge.org) or myself (shodgson@vistaridge.org).  We're here to help!
We pray for safety and health for you all,
Sandy Hodgson
Principal/Teacher
March 19, 2020 // 3:58 p.m.
Hello School Families,
It looks like our reunification on campus keeps getting pushed back and now we are looking at April 20 (fingers crossed!) as the day we may be able to open our classroom doors again to students.  By the time you read this email, it is possible that another federal or state mandate will be issued to create additional change.
In the meantime, staff are scheduled to meet on Monday, March 23 to discuss implementing best practices for distance learning, what our students need regarding technology and/or additional supplies, methods and timelines for communication, assignments, and individualized student learning needs and support, as well as calendar events that will need to be cancelled or rescheduled.
During a Zoom conference this morning with 40+ educators in our Rocky Mountain system, I had a piece of toast with homemade jam gifted me by one of my students and a cup of Red Velvet Yerba Mate and Green Tea gifted by another.  My students and school family are constantly in my thoughts and prayers.  Gauging from all the texts and emails I'm getting from other teachers and staff, it's true for all of us!
Look for more information coming soon on how we are going to stay connected and move forward.
Blessings,
Sandy Hodgson
Principal/Teacher
March 16, 2020 // 6:21 p.m.
Dear School Family,
We have just received directives from our head office in Denver. Our schools are to remain closed at least until Monday, April 6.
​At the end of our official spring break, teachers will report to plan for distance learning from March 30-April 3 (and longer, if needed).
We also hope to provide families with educational activities during the week of March 23-27 that will not be required work but may be helpful for those looking for things for your children to do while waiting for the official launch of distance learning.
While this may be an unsettling time, be assured that we will provide the support our students (and parents) need. We pray for strength and health for each of our families.
With regards,
Sandy Hodgson
Principal/Teacher
March 12, 2020 // 9:12 p.m.
Hello Parents,
To answer many of your texts and emails this evening, Vista Ridge Academy will follow the St. Vrain School District's closing for tomorrow, Friday, March 13.  Classes will not be in session but the building will be open if students need to retrieve any school supplies, textbooks, medications, violins, winter jackets, etc.
With our Spring Break scheduled for next week, we will be reviewing the situation and let you know when we can expect classes to resume on campus.
The information posted on the SVVSD can be found here:   https://www.svvsd.org/
Sandy Hodgson
Principal/Teacher